As I discussed in the last post, the varietal of coffee in your cup has a major impact on the characteristics you like and don't like. Varietals and cultivars are the DNA-level determinants of what single-origin coffee tastes like. Processing and roast levels are the other two major factors, but they can only amplify what the basic raw material is there to begin with.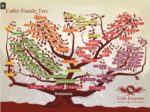 As you may already be aware, coffee we drink today primarily comes from two branches of the coffee tree of life: arabica and robusta. This depiction of all the known varieties and species of coffee from Cafe Imports (thanks!) helps us visualize the relationships. Click the image for a full-size version, and prepare to be awed.
Arabica and Robusta. The two species we drink today, arabica and robusta grow naturally, as does liberica (which I understand tastes terrible) and canephora which exists commercially only as an input to certain hybrids. Robusta has very high caffeine content and is what produces the bitter burned-tire flavors to popular commercial espresso and cheap grocery store coffees. Major espresso chains who want their shots to major on bittering, dark roast flavors and volumous crema will add somewhere between 10% and 30% robusta to their blends. NanoRoast never uses robusta, even in espresso blends.
Ethiopians? Arabica coffees include all Bourbon and Typica and their hybrids as well as wild Ethiopian heirloom varietals that are so prized. We won't discuss Ethiopians much here; they are subject to a lot of secrecy. Only one, Gesha, is being widely planted in Central America as a high-priced specialty—a delicacy in the coffee world. It's very floral while other Ethiopian heirlooms are fruity. All this said, many of the Ethiopian naturals I prepare for you look pointed like Typica.
Bourbon. Bourbon varietals trace to coffees brought from the island of Reunion in the Indian Ocean by French missionaries in the early 18th century to East Africa, the Caribbean and eventually to Mexico and South America. These well-behaved beans are roundish and usually small to medium sized. They produce mild, nutty or floral coffees such as classic Burundi, Panama and Colombian and make high-rated pristine cups when washed-processed.
Typica.  Typica varietals and their hybrids travelled from Ethiopia primarily to Yemen, India and finally Indonesia. You can still find them in the Americas, but they predominate in Asia. Larger, pointed and tending toward fruity flavors, Typica has provided a versatile canvas for different processing methods such as natural dry processing in Yemen, washed processing in India and wet-hulling in Indonesia, each producing very different variations on the fruity theme.
Next time: A Look at My Favorite of Today's Hybrids, Mutations and Cultivars