Costa Rica (Tarrazú and San Luis Grecia) Review
Note: This review covers two single origin coffees from Costa Rica, with similar altitudes and varietals, processed two different ways.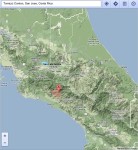 We roasted two batches of the washed and two batches of the honey (pulped natural) process Costa Rica. The washed Tarrazú was roasted medium (FC) and dark (light French).  The San Luis honey process was roasted light (City+) and medium (FC). Both coffees had the same varietals, Bourbon and Caturra. After resting 24 hours, we cupped them side by side and compared the taste profiles.
Here are our tasting notes:
Honey Process San Luis
Light Roast – Roasted to a City+ level, the light roast is very sweet and smooth, with caramel and vanilla notes, and slight toasted nuts in the background. I detected hints of apricots or peaches as well giving a little jazz in the high notes. This cup just gets sweeter as it cools, so if you set it down and forget it for ten minutes, it's still quite delicious! It has medium body, balanced acidity, and a short but pleasant aftertaste.  Drip or pour-over is perfect for this roast; espresso is a bit jazzier, but still quite nice.
Medium Roast –Roasted to a Full City level, the medium roast is balanced, smooth and clean, but with a bit more body and less acidity than the light roast. Vanilla caramels and some stone fruit still predominate, but butter, honey and toasted nuts come more into play. This cup has a delightful aroma, medium silky body and pleasant medium finish. Wonderfully versatile: drip, pour-over, espresso or French press are all nice indeed!
San Luis Honey Process bottom line: Best at light to medium roast, sweet and mild classic Central American profile. Drink it black so you can enjoy the vanilla and peach/apricot notes.
Washed Tarrazu'
Medium Roast – As a dense, high-grown Central, the Tarrazu' can take the extended roasting without losing its sweetness and complexity. We roasted this one to Full City with delicious results. Pristinely clean, notes of toasted nuts and spice and a hint of cherry atop a caramel bottom define the profile. As a washed coffee, its smooth body is light to medium, more analogous to the light roast of the honey process. Overall, it is less sweet than the honey process CR, but it has nutty classic Central American profile that should please nearly everyone.
Dark Roast – We also roasted the Tarrazu' to a light French/Vienna level. The sweetness is there but considerably reduced, caramel is darker with burnt sugar notes, and semi-sweet spiced chocolate notes appear in the lower registers. This dark roast has more body than the medium roast and lower acidity than the other samples, and the finish is much longer than the other three. Of the four CRs we tested here, this one is elegant and perfectly balanced for espresso, but it made tasty french press coffee, too.
Bottom line:  Honey process Costa Ricas we offer are sweet, with a little jazz but not at all sour at light roasts, becoming more of the classic nutty, well-balanced Central American profile at medium roast, complex in flavor, with more body. The washed Tarrazu' samples were both pristine clean profiles, more floral and less fruity, more caramelly and nutty, with less body overall. The washed Tarrazu' is dense enough to roast dark without bitterness and provide a delicious espresso. While the honey process coffees are best at lighter roasts, the washed CR is stunning at a dark roast for espresso.
Enjoy your coffee!
s