Cameroon Washed "Java"
May, 2016:  This is the first review of a Cameroonian coffee that honestly is good enough to offer on our site. West Africa is known more for its cacao than its coffee, and what coffee is grown in West Africa is historically of the robusta variety (the burnt rubber tire flavor in dark-roasted espresso blends served at major chain coffee bars.) However, there are some arabica variety coffees now being grown at sufficiently-high altitudes and processed with enough care to cause the coffee lovers of the West to take notice. This is one of them.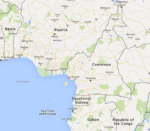 Cameroon Bamboutos comes from a mountainous highland area on the border with Nigeria where coffee is grown at 1100-1400 MASL. German missionaries in the 1930s introduced a "Java" varietal of arabica coffee that is unique, since most African coffees are of the Bourbon varietal of arabica. (As you might expect, "Java" varietal is most often grown in Indonesia.) This coffee is from a well-established local farmer-led co-op that has spent a good deal of time learning how to grow and process coffee for quality.
Tasting Notes
We roasted this bean in three batches: Light (City roast), Medium (C+ to FC), and Dark (FC+-Vienna). After resting the roasted beans for 24 hours, we cupped them using SCAA protocols with the following impressions.
Light Roast – At the "City Roast" level, the beans look like Indonesian beans of the same variety, but without mottling and general gnarliness that comes from the Indonesian processing method. The washed method of processing makes for a clean, well-defined taste profile, less complex and rustic than a Sumatra, but more bright and sweet. Cedar notes, a touch of wood smoke, dark fruits and sweet herbs with pipe tobacco notes predominate, enlivened by a bright tang like one finds in parsely and cilantro. This might be a little too bright for most, but it is quite interesting and will make you take notice.
Medium Roast – Taking the roast a bit darker reduces brightness and balances the profile quite a bit, I think. This might be the sweet spot for those of us who don't especially enjoy very dark roasts. It is still definitely Java in earthiness, but it has a clean balance to it that feels complete. Sweetness morphs from herbs to dark ripe fruits, like plums. As it cools, a bit of cedar smoke and dark chocolate notes round out the dark fruit sweetness. Its finish is ultra-smooth.
Dark Roast – The Cameroon Java makes a lovely dark roast that my tasting panel thought was delicious, yet mysterious. As one summed it up, "classic Indonesian, only wait! It's too clean to be Indonesian. Nice smooth finish, no bitterness… What is this? I like it, I just don't know what it is…"
Bottom line: I recommend a Medium or Dark roast for the Cameroon, and I imagine that it would be good as espresso or as a french-press coffee as well as in a pour-over. It's definitely different, but in a good way.
Enjoy your coffee!
s
Take me to the Current Single Origins and Blends Offerings page