Warning! This is not a happy story. In fact, I hope it motivates you to action. If we all do something positive, we might have a better world, and better coffee, too.
I was reading on the BBC site today and came across this report of the coffee harvest in Antioquia, Colombia.
https://www.bbc.co.uk/news/world-latin-america-55172034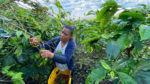 As you might imagine, the COVD-19 pandemic is adversely affecting farmers in Colombia as workers become scarce or sick. We find out from the article that several things are troubling:
– Starbucks and Nestle buy up the majority of coffee and use their clout to get the cheapest commodity prices, regardless of the long-term impact on the market. The average price per kilogram is about $2.40, or $.90/lb., less than what it was in the 1980s. It would have to be nearer to $12/kg to "significantly improve wages." If we did that, the experts say, it would cost us about $.10 (ten cents) per cup. Currently, that "worker premium" is going to corporate profits.
– While many Latin American countries could restructure their industries and trade with consumer nations and see a big benefit, a certain North American country known for throwing its weight around continues to press for things to stay the same. Who says trade policy is morally neutral?
– Workers who do show up to pick often work in strenuous, dangerous conditions, both in an OSHA sense and also a COVD-exposure sense. Pay is about $.05 (five cents) a pound, no benefits.
I'm seeing similar stories reported from all over the coffee-producing world. I suspect that the smaller harvest this year will put upward pressure on prices to roasters and customers, but we don't know for sure for two reasons:
1. I've been buying up excellent specialty lots more than usual just in case. There have been good buys on high quality coffee from ethical farm sources, so I'm investing more, both for the farmers and for the end customer (you).
2. NanoRoast doesn't buy commodity coffee; we buy top-grade specialty coffee, usually from long-term trusted suppliers who source directly from the farmer or from importers who are buying fair trade lots (where "fair trade" means FTA or better practices. There are several certifications in this group.) In short, when you buy from us, you can be assured that your coffee was obtained in the most ethical, sustainable way possible.
A final note: If you want to help support investment in the small farmers around the world who are growing coffee, check out www.kiva.org, the micro-lending site. They have a very good record. I have once-in-awhile been able to lend to the same farmer that I buy from, and that's so cool!
Enjoy your coffee, and make the world better!
s